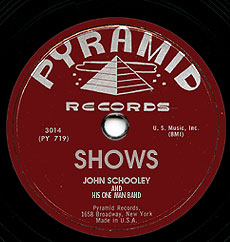 Like all intelligent people, I avoid SXSW except for CHILI DOG FEST! The only fun time to be had the whole goddamn week! No brands will be activated, lanyards will be laughed at, and hopefully all the tech bros have gone home. My new project ROCKET 808 plays around 5 in the afternoon on the Empire Control Room inside stage. There is a raffle with great prizes, alcohol, and of course, chili dogs. It's a benefit for the food bank. Be there!
John Schooley & His One Man Band - México 2018!
A new year, time to annoy people in a new country. I've got my first-ever shows in Mexico in February:
Viernes 23 febrero - Emergente, Cuautitlán Izcalli https://www.facebook.com/events/917666221732914/ 
Sábado 24 febrero - El Tejado grill & bar CDMXhttps://www.facebook.com/events/1847169821969264/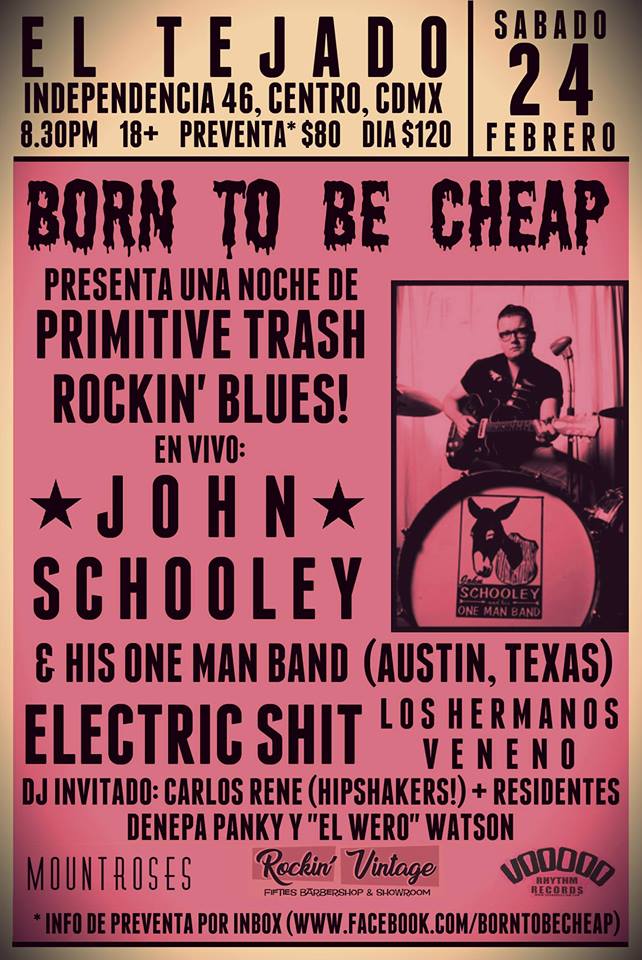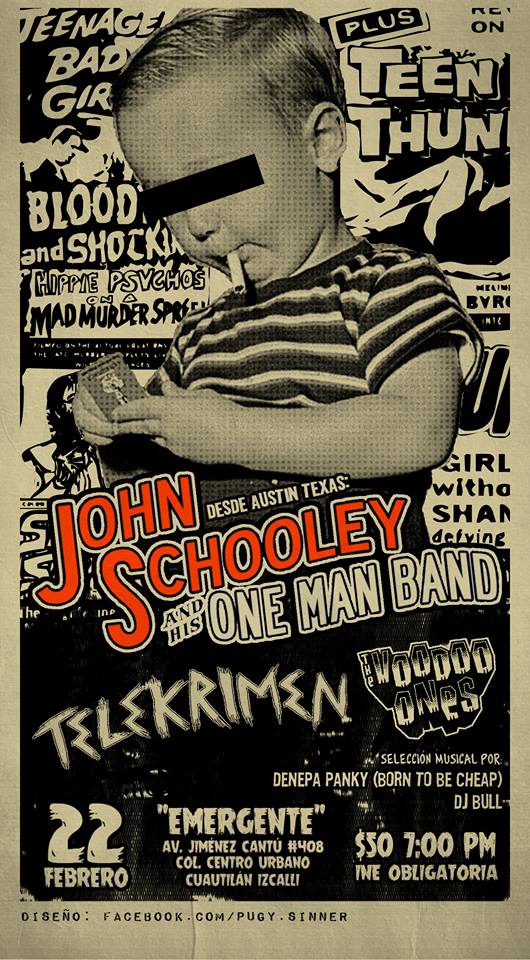 The Revelators (Schooley's first band on Crypt Records) reunite for the first time in 20 years! To celebrate the 20th anniversary of the band's debut album We Told You Not To Cross Us, there are shows in Austin, Texas at Beerland, as part of the Austin Jukebox series, and in Benidorm, Spain, at Funtastic Dracula Carnival! You can also download a newly expanded digital version of the album, with unreleased bonus tracks and extra cuts from all the band's 45s, at the Revelators Bandcamp page.
Friday, September 8th at Beerland - Austin Jukebox #8 with The Moles, Sonny Rhodes, The Revelators, The Dropouts
October 12th-14th - Funtastic Dracula Carnival!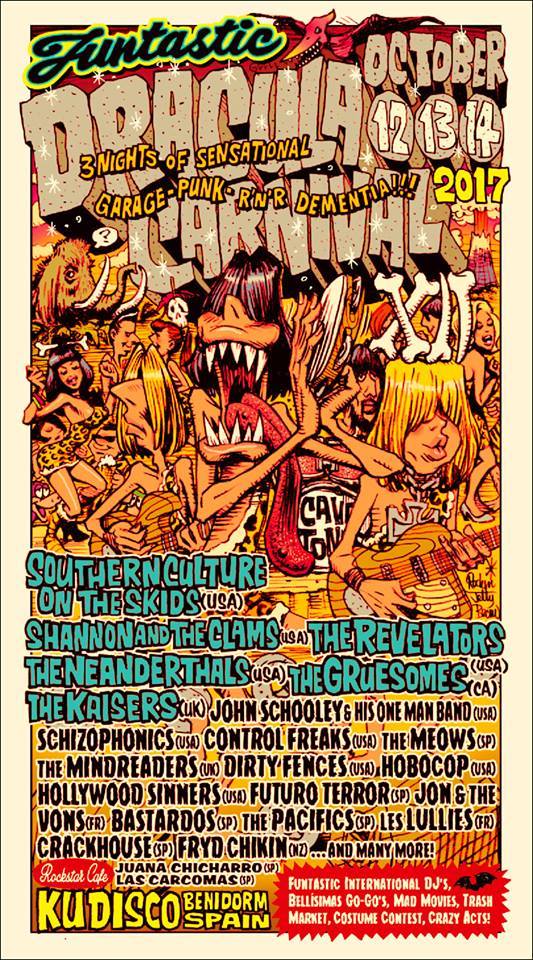 San Antonio! Friday, March 24th at Lowcountry w/the Brummbars
As a one man band I've made it a point to travel to distant and exotic locales. I've played in Australia, New Zealand, Japan, Croatia - all over the world. But in 2017, I finally play in the one place that's never seen a one man band performance: San Antonio! I'll be at Lowcountry on Friday, March 24th with the Brummbars.
Chicago/Milwaukee
I'm flying up to play a couple of midwest shows!
Friday, October 14th at Burlington Bar in Chicago with Fatal Figures and Comm to Black
Saturday, October 15th at the Cactus Club in Milwaukee (at 2:30 in the afternoon!). Part of the Beet Street festival!
Friday, October 7th - MEET YOUR DEATH plays at the Hole in the Wall as part of the Austin Corn Lover's Festival
Thursday, September 9th at Beerland - with Bob Log III!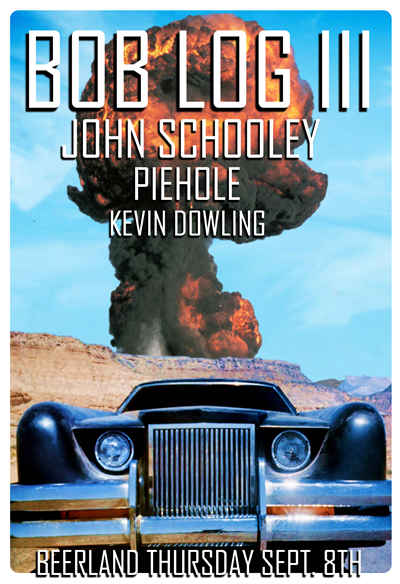 Saturday, March 5th at The Lost Well - With living legends Fred and Toody of Dead Moon, and John Wesley Coleman!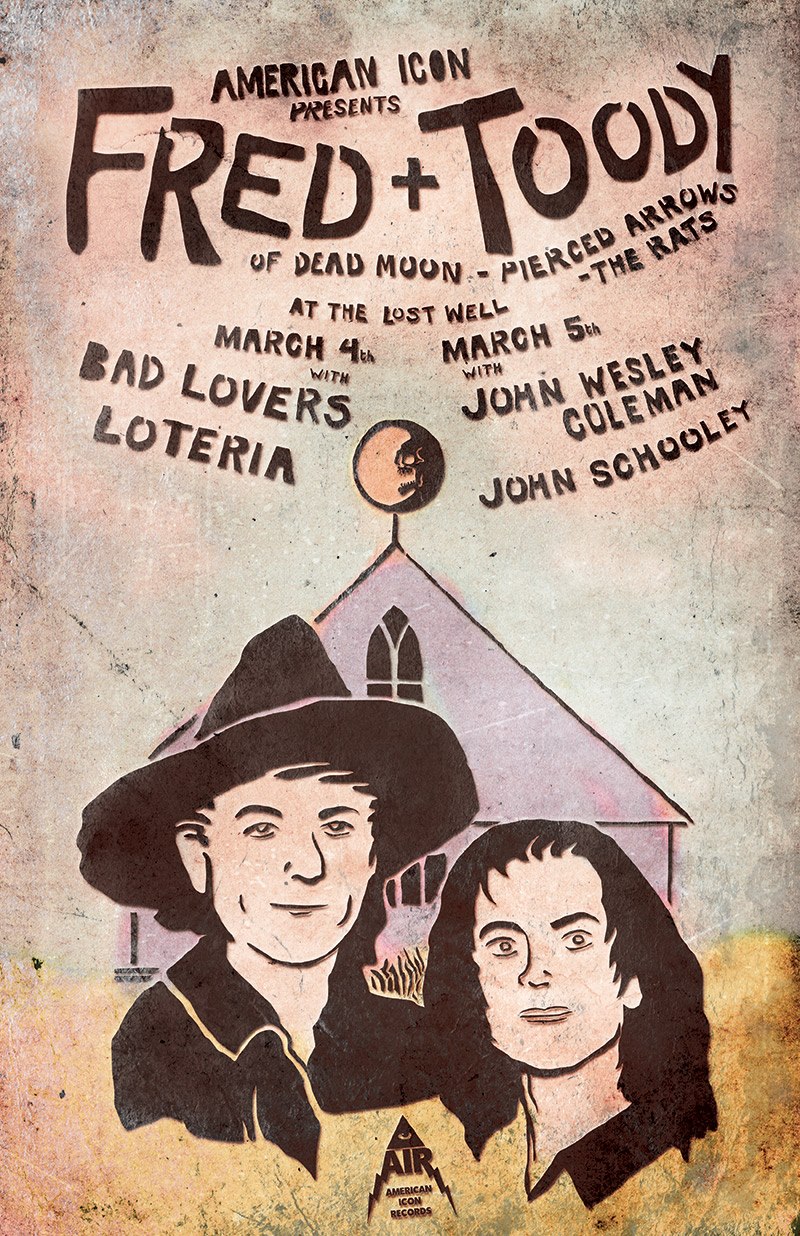 Friday, October 16th at Beerland - Meet Your Death (my electric project with Walter Daniels, Harpal of Wiccans and Video, and Matt Hammer of the Strange Boys) opens for The Cheater Slicks! With Blaxxx (OBN IIIs/Obnox super group!), and James Arthur's Manhunt, too!
I'm going to Japan! I may have ridden this mule all over the world, but I've never been to anywhere in Asia before, so this is something I've always wanted to do. Only three shows!
Friday, August 21 – Tokyo at Club Heavy Sick
Saturday, August 22 – Kobe at The Bee's Knees Lowbrow Rock and Roll Art Bar
Sunday, August 23 – Yonago at トリスキール Triskele Cafe
If you have friends in Japan, tell them to come on out, and share the Facebook page for my tour so people can know this is happening. It may never happen again!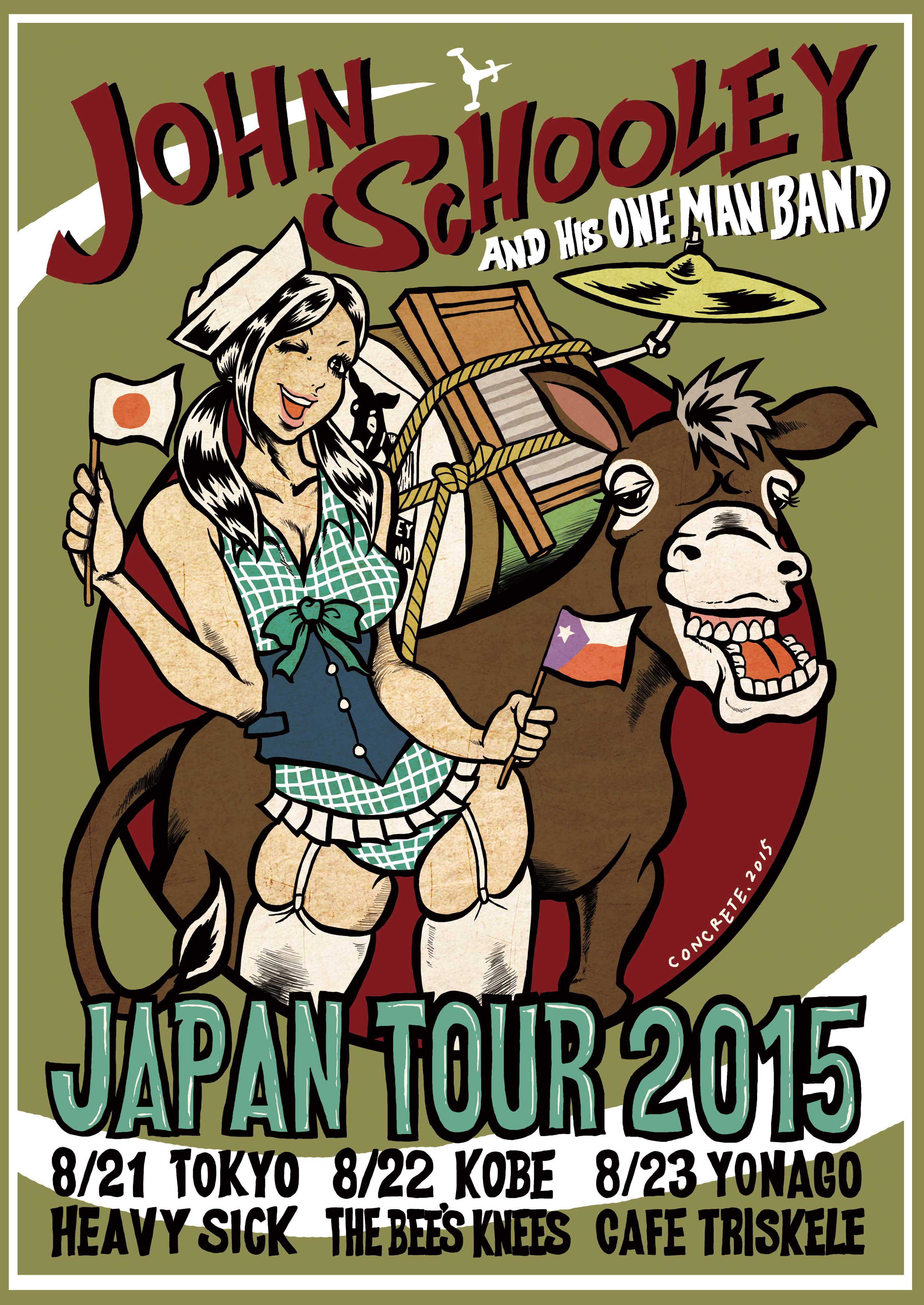 Sunday, June 14th at Red 7 - I'M PLAYING WITH THE SONICS!!!
Thursday, May 28th at The Sahara Lounge - Meet Your Death (my new electric combo with Walter Daniels) plays with The Ugly Beats!
Saturday, April 11th at Hotel Vegas: Mariconda's retirement party and birthday bash! Legendary guitarist and record producer Mike Mariconda is leaving town and moving back to Spain. Not only that, he claims he's done with the stage, too! Will this weekend be his last show? Will mankind learn in time??? Schooley and Mariconda reprise their duo one last time, with Flesh Lights and James Arthur's Manhunt!
SXSW 2015
South by Southwest - I keep saying "Never again! I'm sitting this one out!", yet they keep pulling me back in.
Saturday, March 21st at Beerland - 12XU Records presents - All 12XU bands, all night long! Flesh Lights, Sweet Talk, Burnt Skull, The Dead Space, Jonly Bonly, John Schooley & Walter Daniels, Shawn David McMillen Band, and Lower Berth. Austin's 11th or 12th most decorated independent label (we're slipping every year) presents an action-packed bill because it seems there's absolutely nothing remotely noteworthy happening around town that week. Music starts at 7pm (or close to it). Free admission, 21+
Sunday, March 22nd - 6th Annual Uncle Doug's Chili Dog Fest! For six years, good friends and good bands organized by Doug Niemczura have made the Sunday at the end of SXSW the best day of the whole week. Instead of watching (or playing) some b.s. corporate showcase at the Sans-A-Belt Slacks and Energy Drink Tent, everybody gathers at Side Bar to eat chili dogs, raise money for good charitable causes, and actually enjoy ourselves now that the SXSW hordes have left town. Service industry types relax, musicians nurse hangovers, Ángel still photographs a million bands, and everybody has a good ol' time. PLUS you get consistently the BEST bands in one place of the whole damn week. For free! This year, Meet Your Death will play a set sometime that day. Check the FB page for the schedule as things come together. Big surprises and celebrity appearances are no doubt in store.
Wednesday, February 18th - Another edition of Strange Country at the Aristocrat Lounge! I am joined by Aaron Blount of Knife in the Water on the Wagon Wheels of Steel™, spinning classic and weirdo country vinyl for the discerning palate!
Monday, February 9th at Red 7 - My new electric combo MEET YOUR DEATH (with Walter Daniels, Harpal Assi of Wiccans, and Matt Hammer of the Strange Boys) plays with Bass Drum of Death!
Laugh at me, for Imma be a DJ now: I am spinning weirdo country records at my friend's new bar! Wednesday, January 14th!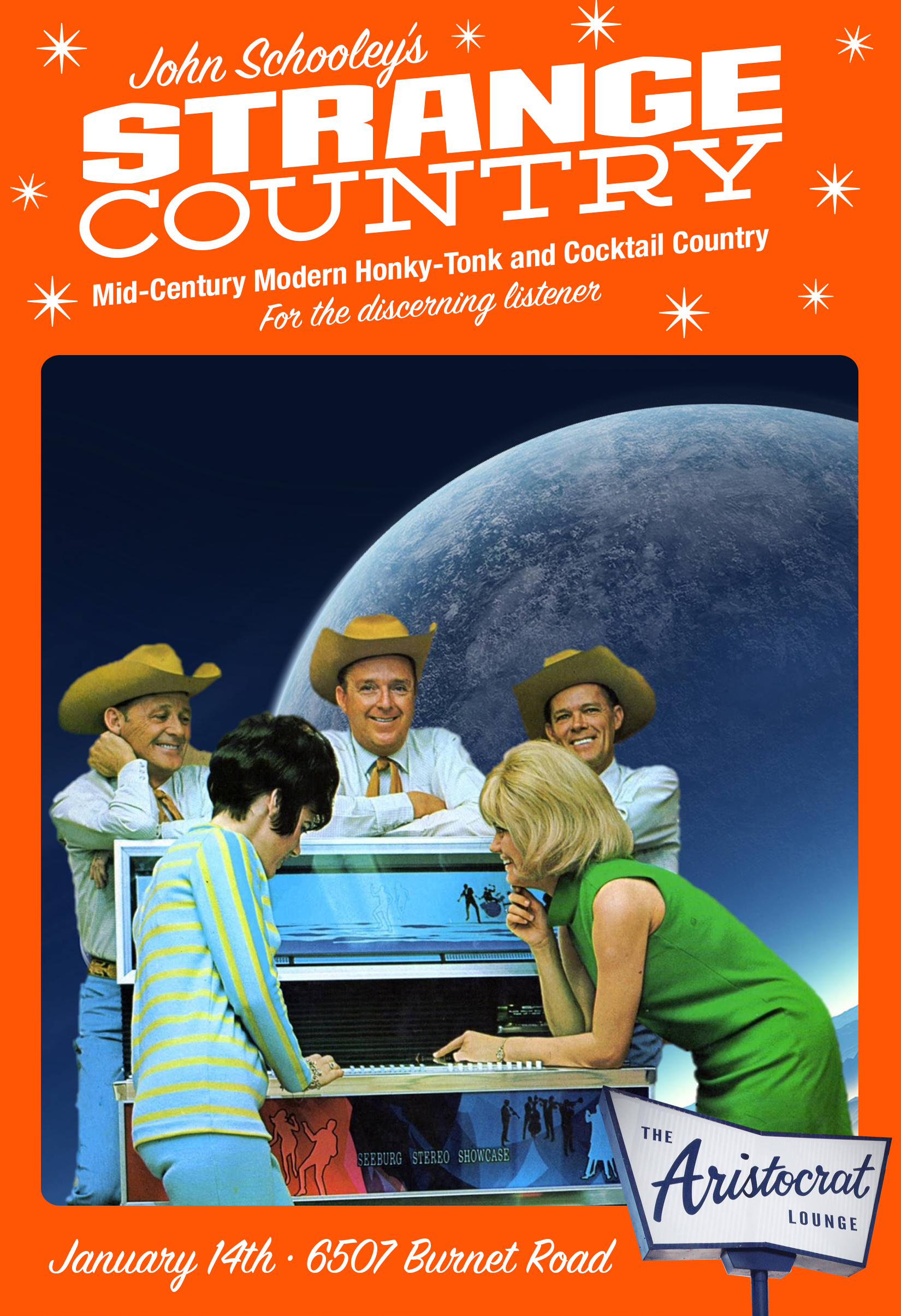 Friday, January 16th at the Scoot Inn - FREE SHOW with Eve and the Exiles, featuring the owners of awesome Austin record store Antone's Records, Eve Monsees (killer guitar player) and Mike Buck (drummer for, to name a few, the Fabulous Thunderbirds and, more notable for people who think like me, with Walter, Jack Oblivian, and Jeff Evans in South Filthy!)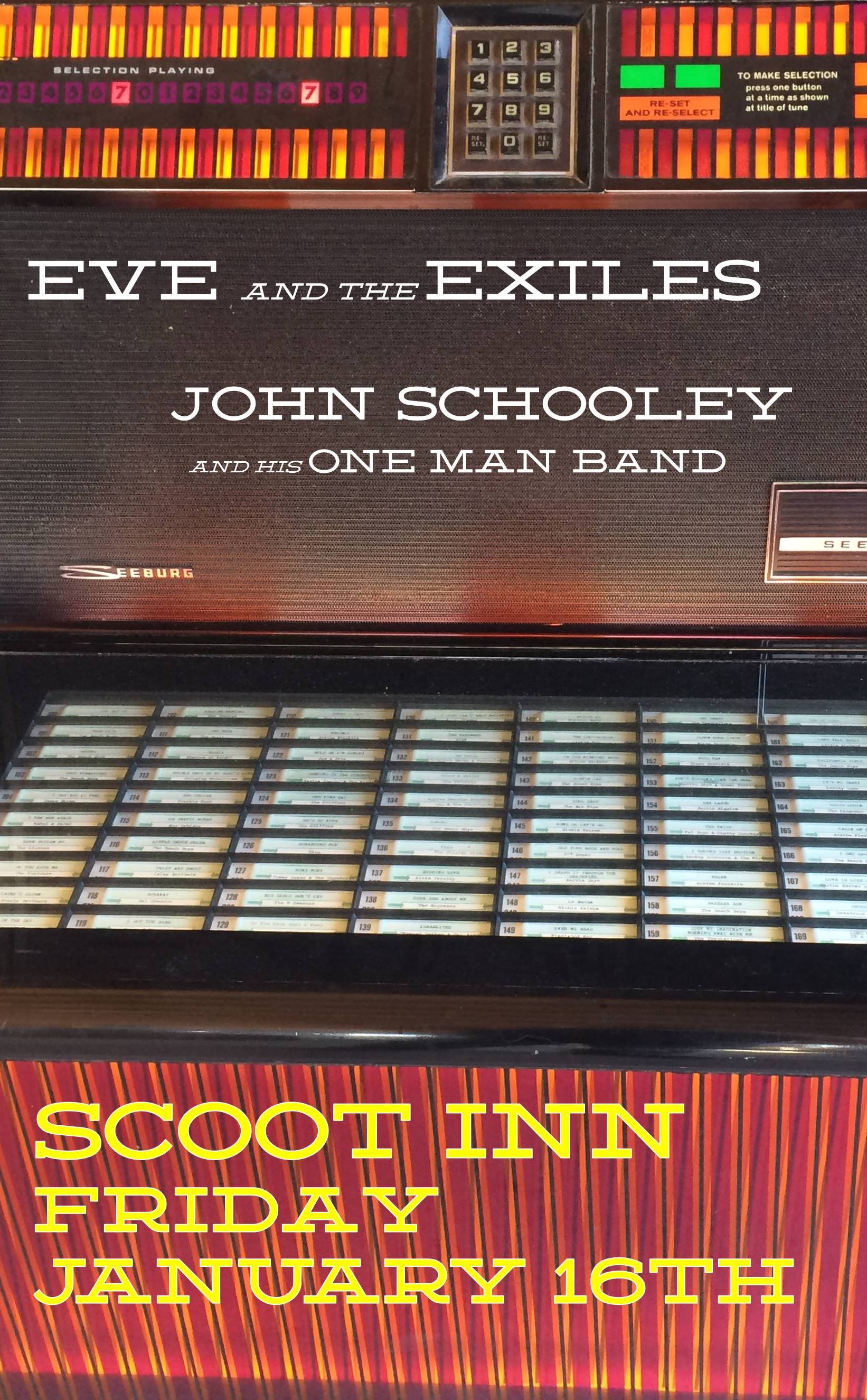 Acoustic shows!
Tuesday, December 16th at Hole In The Wall - Schooley and Walter perform acoustic selections from Dead Mall Blues! With the Boomswagglers and Chansons et Soulards.
Saturday, December 20th at Beerland - a holiday benefit for the Capitol Area Food Bank sponsored by 12XU records, with 12XU artistes such as Xetas, Jonly Bonly, and Dead Space, and Schooley and Walter playing acoustic-style selections from Dead Mall Blues. The show is free, but bring some canned goods, or just donate some cash so the food bank can buy food people actually want!
Wednesday, October 22nd at Hotel Vegas with Church Shoes and the Shawn David McMillen band - I'm back in town, first show in Austin after my European tour, so you better come see me while the "band" is still "tight." With two of my favorite groups in town right now: the always-great Church Shoes, and Shawn McMillen's new combo. Shawn is even worse than me when it comes to self-promotion, so he doesn't have a web page or a place to send you so you can hear how great his new combo is. Very different from his "Dead Friends" album on Tompkins Square. Here's a video of the new band from a few months ago, check it out. So come on out, and buy copies of my TWO NEW ALBUMS. Don't miss it!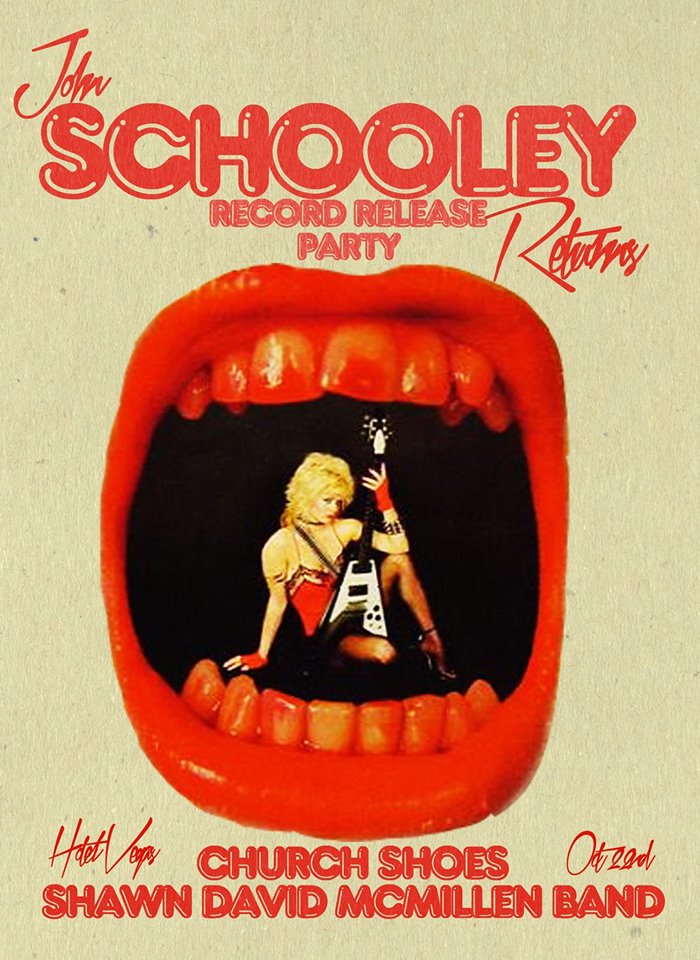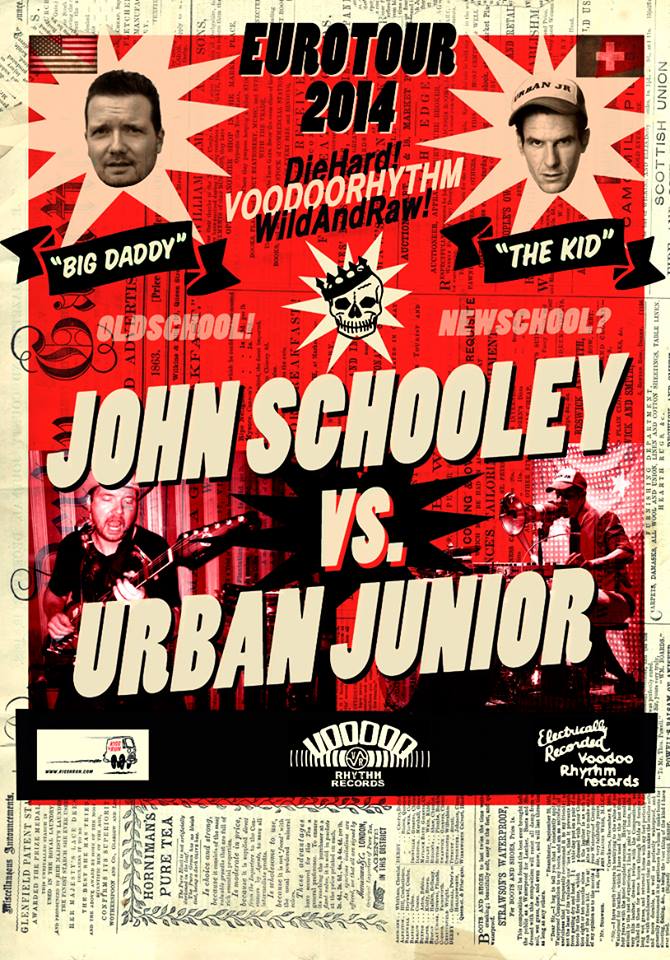 Sat, Sep 27 Antwerp, Belgium - Het Bos (w/ Jack Oblivian and The Sheiks)
Sun Sep 28 Day off in Belgium!

Mon Sep 29 Kortrijk, Belgium - the Pits
Tue Sep 30 Münster, Germany - Gleis 22

Wed Oct 1 Amsterdam, The Netherlands - OT 301

Thu Oct 2 Bonn, Germany - Bonn Stomp @ BLA

Fri Oct 3 Bern, Switzerland - Bar Les Amis

Sat Oct 4 Zürich, Switzerland - El Lokal

Sun Oct 5 – Day off in Switzerland!
Mon Oct 6 - Lugano, Switzerland Spazio collettivo li - Via Landriani 7
Tue Oct 7 Fürth, Germany - Kunstkeller o27

Wed Oct 8 Leipzig, Germany - Zoro

Thu Oct 9 Darmstadt, Germany - Bessunger Knabenschule

Fri Oct 10 Utrecht, The Netherlands - dB's

Sat Oct 11 (afternoon) Nijlen, Belgium Summer in October Fest

Sat Oct 11, evening:  Rotterdam, The Netherlands V11  (w/ Jack Oblivian and The Sheiks)
Friday, August 29th at The Sahara Lounge - Ding Dong Bang Bang with Schooley and Mariconda! Joining me on 2nd guitar as we reprise our "John Schooley and the Houserockers" take on Hound Dog Taylor tunes is world famous producer and Raunch Hands guitar king Mike Mariconda. We won't be doing just Hound Dog Taylor songs this time, though. Whatever we feel like. Then, after the set, everybody DJs all night. At the Sahara Lounge for maxiumum distance from downtown.
Friday, July 25th at Beerland OBN III's record release with Meet Your Death, Church Shoes, Borzoi Don't panic or anything, but I started a new band with Walter Daniels, Matt Hammer (formerly of the Strange Boys) on drums, and Harpal Assi (from the Wiccans and Trustees) on bass. MEET YOUR DEATH. Our first show is the OBN III's record release show for their killer new album Third Time To Harm. Haven't played in a band with other people for about a decade, but I got so sick of all the shitty bands in this town I had to start something new, so that I could, in the immortal words of T Model Ford, "remember you sorry fuckers how it's done." We'll probably only play out on rare occassions, so don't miss this.
Friday, March 21st at Red 7 - The Gories! w/ A Giant Dog. I am a fan of the Gories, and I am excited to get to play a show with my fellow Crypt Records recording artistes.
SXSW:
Sunday, March 15th at Uncle Doug's Chili Dog Fest V - Fifth annual installment of the #1 party/show/all-day drunkathon/end-of-SX comedown/friendly townie hangout known as Chili Dog Fest. Due to popular demand (ha ha, just kidding, actually just because Uncle Doug asked), Mariconda and I are reprising our Hound Dog Taylor set from Beerland! We are supposed to go on around 4:30.
Friday, February 28th at Beerland - I recorded my new alb at Ryan Anderson's excellent Active Sound Studio, and this show is Ryan's 40th birthday party. His former band The Damn Times is having a reunion show, and eternal Austin stalwarts the Crack Pipes are playing, too. For my set, Mariconda is playing second guitar and we are doing all Hound Dog Taylor songs, just for the hell of it.
Friday, February 14th at the Legendary White Swan - acoustic set with Walter Daniels. Come down to the White Swan on Valentine's Day for some acoustic blues and a 99.9% chance that there will be no women at this show.
Thursday, February 13th at Beerland with Lola-Cola, The Golden Ghetto, & Ishi Ni San Shi.
Saturday, January 25th at Street Legal Guitars - a new guitar shop has opened up in Austin, the first on the east side of town. Come celebrate with free food and beer, and an acoustic set with me and Walter Daniels.
2013
Saturday, December 7th, 10:00 p.m. - Hard Gravel reunion show at Beerland - Before Sam Eidson, star of the Fantastic Fest fan favorite Zero Charisma, became a movie star, he had a parody country band called Hard Gravel. Now that he has made himself a name in the film industry, Hard Gravel is having a reunion show, featuring another jokey country band, White Bronco, stand up comedians Ramin Nazer, Ryan Cownie, and Kerri Lendo, and me, the only non-comedy act on the bill. Or perhaps saying that I'm the only unintentional comedy act on the bill would be be accurate. Come laugh with and/or at me.
Saturday morning, November 23rd, 9:00 a.m. (ouch!) at the Austin Convention Center: Wizard World Comicon! For some reason, possibly because I am stupid, I agreed to play Wizard World Comicon early Saturday morning at the Austin Convention Center. I am supposed to entertain the line of nerds waiting for the doors to open at 10. William Shatner,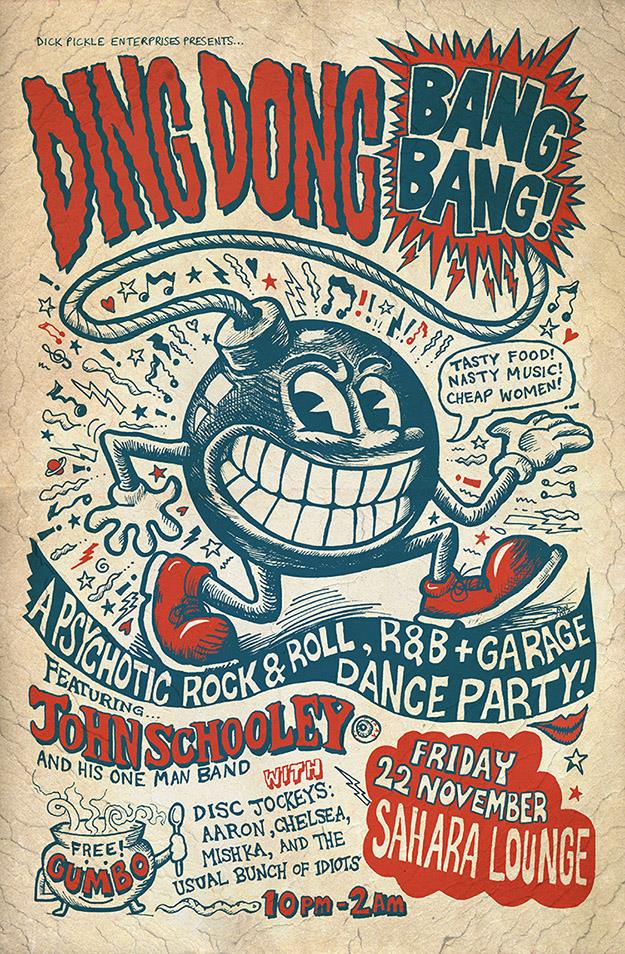 Bruce Campell, and Gus Fring from Breaking Bad are going to be there, so there are other selling points besides the fact that I'm playing. Only downside is that I have a gig the night before. Should be... fun?
Friday, November 22nd at The Sahara Lounge: Ding Dong Bang Bang! A night of DJs spinning greasy blues and r&b, and me playing a set of same. Come get me drunk, so I am all hungover for the cosplayers on Saturday morning!
Friday, October 25th at Hotel Vegas with Church Shoes. Church Shoes are releasing a record!
Friday, October 19th at Cenote 9pm - acoustic-y set with Walter Daniels. Come drink wine and peck on your laptop.
Friday, October 4th at Beerland with the Onyas all the way from Australia! A Giant Dog, me, and the Shitty Beach Boys round out your evening of entertainment. Rich Stanley (of the Onyas) booked my Aussie tour, helped release Hard Feelings albums, and can drink you under the table with only one borrowed kidney! Glad he's made it back to the states.
Saturday, September 14 at Hotel Vegas - American Icon Rock n' Roll Mall - a dozen bands! I'm first at 5 pm, then Church Shoes right after me, then 10 more bands if you can make it that long.
Friday, August 9th at Beerland with Obnox, The Gospel Truth, Burnt Skull, Trustees, Buildings
Wednesday, June 5th at the Sahara Lounge with Wes Coleman, Lola Cola, and Tijuana Bibles
Euro Tour!
Yup, I am goin' cross th' pond for a brief sojourn. End of April, first week of May. I'll be playing the Roots and Roses Festival in Lessines, Belgium, and as many other shows that I can squeeze in. Robert at Kiss n Run is handling the proceedings. The schedule:
fri April 26 Hamburg -- Komet
sat April 27 Groningen -- Crowbar
tue April 30 afternoon: Venlo -- Queensday Festival @ Perron 55
tue April 30 evening: Sint-Niklaas -- De Casino
wed May 1 Lessines -- Roots & Roses festival
thu May 2 Freiburg im Breisgau -- My Way
fri May 3 Breda -- One Man Band Fest @ Mezz
sat May 4 Middelburg -- Kaffee 't Hof
Saturday, March 30th at Beerland - Church Shoes tour kickoff party! Wish them well before they go lose a bunch of money trying to tour in the U.S.
Sunday, March 17th at Side Bar - Doug's Chili Dog Fest! In recent year's Doug's all day end-of-SX party has become the #1 mellow comedown for locals, Austin musicians, and service industry types who just had to suffer through a week of SXSW. I had such a good time last year, I'm sayin' screw the "official showcases," this show on Sunday is my only one for the week.
Wednesday, February 20th, 9:00 p.m. at the Sahara Lounge - with Slow Train, The Hang, River Train, and Kathryn Legendre. I just got added to this bill at the last minute so I could practice some stuff for my recording session next week. Come, and bring low expectations!
Saturday, January 19th - Beerland, Austin, TX - It's Chad Kelly's birthday! With the Damn Times, and a Stepbrothers reunion!
Chad Kelly is a primo cool man about town, record company mogul (with the boxes of unsold CDs in his attic to prove it!), furniture designer and builder, and all around good dude. Come celebrate another year of his continued existence on this planet.
2012
Friday, September 28th - The Legendary White Swan, Austin, TX w/ T. Tex Edwards!

In October, a brief midwestern sojourn:

Wednesday, Oct. 10th – The Crack Fox, St. Louis (It is also "Stag Night" with $1 cans of Stag beer)

Thursday, Oct. 11th – Firehouse Pub, Normal, IL

Friday, Oct. 12th – Bayport BBQ, Minneapolis, MN, opening for Tav Falco!

Saturday, Oct. 13th – Bayport BBQ for the second night, this time me headlining!
2011
Thursday, March 24th at Beerland with Ralph White, Walter Daniels, and Wes Coleman. I'm not playing for SXSW, but I am playing for free the week after, when parking will be plentiful and perhaps my hatred for humanity engendered by the crowds from SXSW will be dissipated slightly. Maybe.
Monday, February 28th at End of An Ear with Shawn David McMillen, it's a birthday celebration for John Fahey, who would have been 72. Sean and I will both be playing Fahey tunes, Dan will be selling records, a good time will be had by all. I never play acoustic fingerpicking stuff except on my couch, but I worked up a bunch of Fahey tunes just for this.
Saturday, January 15th at Beerland with legends Walter Daniels and Ralph White. I recorded some stuff with Walter and Ralph last year, they've been doing some shows together and seeing them play together is a trip. Walter is the best harmonica player in the world, Ralph is an amazing clawhammer player and multi-instrumentalist. Not to be missed.
2010!
Saturday, November 13th at Beerland - South By South Wes! Wes Coleman's record release party, with James Arthur's Manhunt and many other bands.
Tuesday, October 12th - with Reverend Deadeye.
Saturday, August 28th - Ryan Brush's bachelor party at Beerland. I am playing a one man band set. Also, for some reason, I agreed to play a couple of songs with Ryan's new punk band, Bobby Hazard and the Hates. I have to learn "I'm In Love With Your Mom" now.
Saturday, July 24th at Emo's with the Crack Pipes and T-Model Ford!
Tuesday, July 20th at Beerland with Reverend Beat Man and Delaney Davidson! All the way from Switzerland, Voodoo Rhythm founder Beat Man makes a rare U.S. appearance, with Delaney Davidson of the Dead Brothers along for the ride. Not to be missed!
Thursday, June 24th at Trailerspace w/ Shawn David McMillen 7 p.m.
Friday, May 14th at Red 7 with Captured By Robots!
Saturday, May 1st at Beerland with Baron Grod, Love Collector, and the Stuffies.
Wednesday, January 20th at the Mohawk with Posessed by Paul James. Voodoo Rhythm label mates share a bill.
Thursday, January 7th at Beerland with Black Panda, the Fleshlights, and the Zoltars IT'S FREE! Yep, free week, that annual tradition that tries to get people in the habit of leaving the house as the new year commences.
2009
Friday, Dec. 11th at Beerland with Chris Gates and Gatesville - Yeah, I haven't played a show for a couple of months, so here ya go. Last show of 2009!
Friday, August 28th - The Victoria Tavern, London Ontario
Saturday, August 29th - The Dakota Tavern, Toronto
Sunday, August 30th - Rancho Relaxo, Toronto
All shows with The Speaking Tongues! Thanks to those guys for setting up my first-ever shows in Canada! And for letting me sleep on their floor!
Saturday, July 18th at Beerland - with me at 10:00 pm, followed by The Black Squeeze, Copper Pocket, and Captain Mudhole. I'm first - c'mon out!
Thursday, July 9th at The Carousel Lounge - with Portland's Right on John and Captain Mudhole
Saturday, May 16th at Beerland- with Two Hoots and a Holler, Mr. Lewis and the Funeral Five, and Izzy Cox.
Tuesday, April 7th at Beerland - Voodoo Rhythm labelmates the Movie Star Junkies, along with the Transgressors and Shapes Have Fangs!
Friday, March 20th at Hole In The Wall - It's the Hillgrass Bluebilly Anti-SXSW showcase, with Left Lane Cruiser, Chili Cold Blood, Possessed by Paul James, John Schooley and his one-man band, Restavrant, and Hillstomp. Wristbands are for losers.
I'm playing THE BLOWOUT in L.A.!
Saturday Feb 21st at The Elks Lodge in Van Nuys, CA with Original East L.A. Legends...first show since '66 MARK & THE ESCORTS
Original East L.A. Legends...first show since '68 THE AMBERTONES
Masked Marvels THE PHANTOM SURFERS
Sacto Garage Crazies THE TROUBLEMAKERS
Fuzzed Out Hillbilly Psychosis from ROCK N ROLL ADVENTURE KIDS
Georgia's Raucous Frat / R&B Combo THEE CRUCIALS
w/ Members of Supercharger & The Trashwomen THE BACI GALOOPIS
Voodoo Rhythm Wildman JOHN SCHOOLEY AND HIS ONE MAN BAND
(members of Trashwomen, LaTeenos, Loudmouths) THE TUFF TITTIES
Surf Monsters from Beyond Ur-anus THEE CORMANS
SF's Helmeted Frat Rockers THE AU GO GO KARTS
East L.A. Swamp Fuzz Creeps THE GUILTY HEARTS
Chaotic Dance Combo THE JINXES
DJ's Tony The Tyger and Alberto Sol will be spinning all day and all night long...hosted once again by comedy genius... JAMES BECK
It's All Happening at
4 pm to ???
The Elks Lodge
14440 Friar St Van Nuys, CA 91401
18 & Over!!!
Saturday, Dec. 27th @ Red Eyed Fly - back in Austin to play with Scott Biram! Woo!
Euro Tour '08
thu Nov 13 Hamburg -- MS Hedi
fri Nov 14 Oberhausen -- Herr Mouty's
sat Nov 15 Darmstadt -- Kombinatsparty
sun Nov 16 Salsomaggiore Terme -- Devil's Den
mon Nov 17 travel
tue Nov 18 St Etienne -- L'Entrepots
wed Nov 19 Marseille -- La Machine a Coudre
thu Nov 20 Perpignan -- La Divine Comedie
fri Nov 21
sat Nov 22 Madrid -- Bar La Buena
sun Nov 23 Gijon -- Savoy
mon Nov 24 travel
tue Nov 25 Nantes -- Spoutnik Bar
wed Nov 26 Paris -- La Mecanique Ondulatoire
thu Nov 27 Amsterdam -- Maloe Melo
fri Nov 28 Haarlem -- Patronaat cafe
sat Nov 29
Saturday, October 4th at FooBar in Nashville, TN
Friday, October 10th at Beerland with The Strange Boys, The Bad Sports, and Cause for Applause
Monday, August 25th at Emo's : Hillgrass Bluebilly Entertainment presents Left Lane Cruiser and me!
Saturday, August 30th at Room 710 with Scott Biram!
Sunday, July 20th at the 2nd Annual Deep Blues Festival in MN, with about a hundred other awesome acts that are well worth seeing. The fest last year has achieved legendary status and I'm honored to be asked to play again this year.
ALSO - I'm playing an after-Deep-Blues-Festival-party gig at the Turf Club in St. Paul on Sunday night. Come out after the DBF craziness is over with!
Saturday, June 6th at Beerland with The Guilty Hearts , the Hex Dispensers , and Black Panda .
Sunday, July 6th at Beerland, with This Moment in Black History! This should be awesome and fucked up.
Thursday, May 15th at Beerland w/The Watzloves. All the way from Germany, DM Bob and Silky are in town to celebrate my first show of '08 since I had that little difficulty what with fallin' off a cliff and breakin' my arm an' all...BE THERE!
Friday, Jan 25th @ Beerland w/Possessed by Paul James, Chili Cold Blood, and Bigfoot Chester - My first show back in the US of A, (and first show of 2008!) with label-mate/dude who played fiddle on my LP Conrad AKA PPJ...
Euro Tour November-December '07

Thu Nov 15 Utrecht -- dB's
Fri Nov 16 Bonn -- BLA
Sat Nov 17 Stuttgart -- Kiste
Sun Nov 18 Koln -- Sonic Ballroom
Tue Nov 20 Kortrijk -- the Pit's
Wed Nov 21 Münster -- Gleis 22
Thu Nov 22 Ulm -- Eden
Fri Nov 23 Luzern -- Metzgerhalle
Sat Nov 24 Zurich -- Mata Hari
Mon Nov 26 München -- 59 to 1 (ex-Monofaktur)
Tue Nov 27 Frankfurt -- Dreikoenigskeller
Wed Nov 28 Hamburg -- Hafenklang
Fri Nov 30 Berlin -- Luzia
Sat Dec 1 Groningen -- O'Ceallaigh
Saturday, September 22nd at Emo's - Rich Stanley (of the Onyas, and Dropkick, who was foolish enough to put out some Hard Feelings records and book my Aussie tour) makes it up from Australia to ruin his one remaining kidney. Oh, yeah, there's some bands playing, too, I think. You can watch Eddy Current Suppression Ring (a new band on Dropkick that Rich swears kicks ass), along with the Strange Boys and the A-Frames. I play first so get there early.
Saturday, September 15th at Lamberts - BAR-B-Q! I go on at 10:30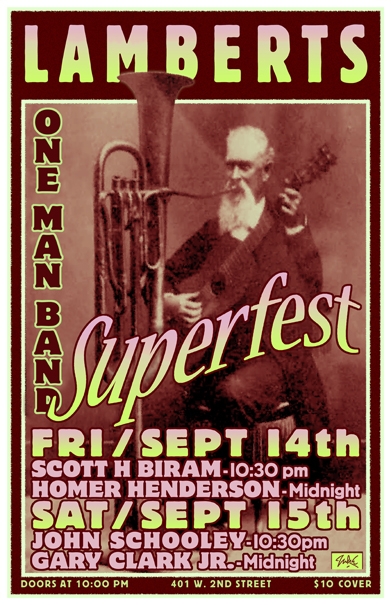 Saturday, August 18th - the Deep Blues Festival in River Falls, WI! A great lineup with a few of my one man band friends and lots of other cool acts, AND it all goes to a local charity. THE place to be in August in Western Wisconsin!
Saturday, June 2nd at THE PARISH - With The Bastard Sons of Johnny Cash!
FRIDAY, APRIL 28th at BEERLAND - Me, the Hex Dispensers , and Tyler Keith and the Preacher's Kids . Been a long time since Tyler's made it down this way and it should be good. I hear he has a whole new LPs worth of material built up. C'mon out!
Tuesday, April 10th at the Red Scoot Inn- Ryan Brush (aka Bone, Mysterioso, One Man Hand, etc.)'s GOING AWAY PARTY! Ry-dog has been my next door neighbor and sometime roadie for several years now. He'll be missed! C'mon out to the Red Scoot to give him a big send-off and see his final performance with Nervous Hospital before he moves to Nashville.

Saturday, April 14 it's the Juke Joint Stomp!
SXSW
My SXSW showcase is Wednesday night at 11pm on the Lava Lounge Patio. It's the Hook or Crook showcase, with the ever-drunk Golden Boys and new Hook or Crook sensations Hank IV. Come hear me bitch about how the Stooges, Beasts of Bourbon, and Saints all have showcases at midnight on Saturday! Dammit.
Saturday, March 10th, 7pm at the Carousel Lounge - Somebody wants to film my ass on Super 8 and record the damn thing. At the Carousel! Cool! I'm first, so get there early, in case they pan the camera over towards the "crowd" (har har). Also on the bill later on, Heather Rae & the Moonshine Boys, Eve Monsees & the Exiles and The Texas Sapphires. My first show in a long-assed time, so come out! Then go see Pat Todd with me later...

Saturday, Nov. 25th at Red Eyed Fly - with Scott Biram!
Thursday, Nov. 9th at Beerland - First night of The Creepout! A celebration of creepy bespectacled guys who like to rock. With an all one man band lineup: me, Ghostwriter, Toof, Emotron, and DFI.
Thursday, Oct. 26th at Yard Dog 7pm - I'm playin' Jenny Hart's book signing! Probably lots of crafty chicks will be there, so come on out or they'll get all mafioso on your ass.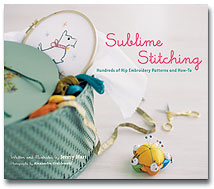 Saturday, October 7th at the Scene (in Glendale out in LA) - with The Guilty Hearts, El Dorado and the Ruckus, and The Husbands! Hey, I'm goin' out to the city of angels to hang out with the Guilty Hearts, celebrate Noel's birthday, and see some awesome bands! My loyal roadie Mysterioso will join me. Should be a blast!!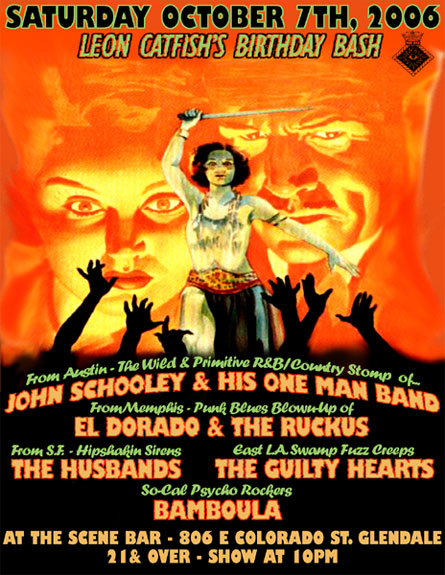 Friday, August 18th at Beerland- with Chili Cold Blood and the Transgressors.
Friday, August 4th at Spider House - 9pm (?) I've never played the coffee house before, but Johnny Walker is booking there now, sooo - why not? Oh, yeah, because it's AUGUST in TEXAS and I'm playing outside!?!? I shoulda thought about this more. Anyway, come see me sweat...
Wednesday, June 14th at Beerland - With Mark Sultan AKA BBQ, the Golden Boys, and the Demon's Claws !
Sunday, May 28th at the Satellite in Reno, NV - I'm flyin' to Reno to play with Charley Horse and the Black Tabernacle! 'Cuz they wanted me to, that's why!!!
Saturday, May 6th at the Union Pool, Brooklyn - NYC bound, for a bad-ass Hasil Adkins Tribute Show, with an all-star one man band cast: Bloodshot Bill, Ghostwriter, and Schooley. With former Raunch Hand Mike Edison's Rocket Train thrown in for good measure.
Friday, May 5th at Asbury Lanes, Asbury Park NJ - With Bloodshot Bill and Ghostwriter. AND Tim Warren is gonna dj! Fuck yeah!
Tuesday, April 11th @ Beerland - with the Rat Traps and the Crack Pipes!
Sunday, April 9th, 6pm - Playin' the Rollerderby at the Austin Convention Center with the Ravens.
Saturday, April 1st at Trophy's, 9pm - It's the Lonestar Round Up! Rod and custom show with music at Trophy's and the Continental club all weekend. Should be a bad-ass time. My show Saturday is with Bob Bleed of Milwaukee's awesome Bleed.
SXSW 2006
Hook or Crook records showcase @ Jackalope Wednesday March 15th with The Rebel, the Cheater Slicks (!) and more! Holy shit!
Alejandro Escovedo's end of SXSW bash/benefit at the Continental Club, Sunday March 19th - big show that finishes up SXSW week, and features lots of way better-known acts than Schooley. But Al asked for the second year in a row. Thanks, Al!
---
Friday, March 10th at Emo's - w/The Real Heroes, the Lord Henry, and Cruiserweight. I've known Ben from the Real Heroes forever, but we've never played a show together. Probably because our music sounds nothing alike. It'll be like havin' Hasil Adkins open for Cheap Trick! ...Actually, that would be pretty cool. Ok, not that good, but a fun time anyway. The one man band doesn't really fit with any of the other bands on the bill, either. Come out to see heads be scratched!
Saturday, March 4th at the Continental Club - with Jimbo Mathus. Cool!
Thursday, March 2nd at Flipnotics - with buddy Possessed by Paul James. Our first show at the coffeehouse. Come gnaw a biscotti or whatever the hell it is ya do in one-a them places.
Wednesday, March 1st at the Alamo Drafthouse - I'm not playing, but they picked my video for "Drive You Faster" (directed by Mike D. from Chicken Ranch Records) for the Texas Indie Music Video Festival. Check the link for a list of all the bands...
Tuesday, Feb. 14th at the Rhythm Room, Phoenix AZ - Hillgrass Bluebilly Entertainment wants me to come all the way out to Phoenix to play Valentine's Day at the legendary Rhythm Room with Flathead and Hillstomp. Because Schooley is for lovers.
Wednesday, Jan. 25th at Beerland: R.L. BURNSIDE NIGHT, 7 pm - Max and Austin's movie night will show "Hill Stomp Hollar" by Austin filmaker Bradley Beasley (who also did the great "Okie Noodling" documentary). It's about R.L. Burnside, T. Model Ford, and all your great Fat Possum artists. Apparently it's pretty short, so I'm playin' a set afterwards. We'll also show some clips of me performing with R.L. at a blues festival in Norway around the time the movie was shot. Yeah, I played with R.L. Burnside. Dig it!
Thursday, Jan. 12th at the Longbranch Inn w/ Possessed by Paul James - Starting 2006 off right with a show at the always popular Longbranch with fellow Austin one man band Conrad - who goes by the stage name Posessed by Paul James. A good time will be had by us, show up if you want but don't bring us down 'cuz we're gonna have a blast with or without you.
Wednesday, Jan. 11th at Emo's - The last night of FREE WEEK at Emo's, with the White Ghost Shivers and Willie Heath Neal
Wednesday, Dec. 28th at Beerland w/ The Lonely Knights - 10 pm - Yeah, I know it's probably gonna be a bleak turnout for the Wednesday night between Christmas and New Years, but I had to take this show because it's with the AMAZING Lonely Knights - Austin's only all swamp pop cover band! If you haven't caught these guy's packed sets at Evangeline Cafe you've been missing out. This is their first show at Beerland, which is perfect 'cuz they need to play some dives. They're made for it! In an effort to get people to actually show up, the show starts early at 10 pm. You haven't lived 'til you've seen live versions of songs by Cookie and the Cupcakes, Tommy McClain, Rod Bernard, Tom Broussard, and more. Usually you'd have to travel to some roadside shack in Louisiana to see this stuff. Piano, two saxes, the works. These guys are really great, so if you like fun and the having thereof you will come out, even though yes I know it's the Wednesday night between Christmas and New Years. Please?
Thursday, Dec. 15th at the Longbranch Inn - It's the Obsolete Inc. and Chicken Ranch Records Christmas party! It starts early - 9 pm - with Black Joe Lewis and Walter Daniels, then I hear there's some half-nekkid girls dancin' and then Schooley. It's also a benefit, so bring some canned goods (for the Capital Area Food Bank) or a new toy (for Blue Santa) and admission is free! Last year, this party set the all-time Longbranch alcohol sales record, and that was before they even had liquor!
Saturday, Dec. 10th at the Longbranch Inn - With the Bloody Tears!
Wednesday, November 23rd at the Alamo Drafthouse- The Voodoo Rhythm Records documentary "The Gospel of Primitive Rock n' Roll" is screening at the Alamo Drafthouse on Wednesday, Nov. 23rd, with a performance by your hero John Schooley and his One Man Band beforehand! The film features interviews with Lightning Beat Man, the Monsters, King Khan, the Dead Brothers, and more. The performance by Schooley is just that same ol' shit he always does. But this time in a movie theater...AND you can buy advance tickets online (just click the link above), which you should soooo do because this is gonna sell out.
Euro Tour Fall 2005!
With the Guilty Hearts. Dig it: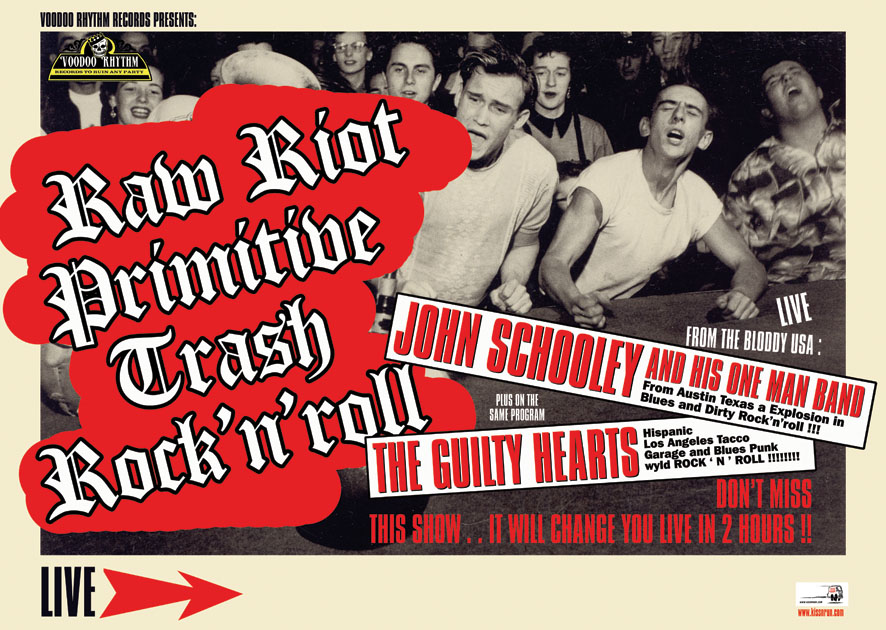 tue Sep 27 Koln -- Sonic Ballroom
wed Sep 28 Luzern -- BOA
thu Sep 29 Linarolo -- Blue Stage
fri Sep 30 Ljubljana -- Orto Klub
sat Oct 1 Senta -- Mojo
sun Oct 2 Beograd -- tba
mon Oct 3
tue Oct 4 travel
wed Oct 5 Strasbourg -- Zanzibar
thu Oct 6 Nurnberg -- Kunstverein
fri Oct 7 Bischofswerda -- East-Club
sat Oct 8 Aschaffenburg -- Kulturzentrum
sun Oct 9 Berlin -- Roadrunners Paradise Club
mon Oct 10 off
tue Oct 11 Hamburg -- Hafenklang
wed Oct 12 Frankfurt -- Dreikoenigskeller
thu Oct 13 Oberhausen -- Druckluft
fri Oct 14 Rotterdam -- Waterfront
sat Oct 15 Kortrijk -- the Pit's
sun Oct 16 Haarlem -- Patronaat
mon Oct 17 Groningen -- ORKZ
tue Oct 18 Amsterdam -- De Diepte
wed Oct 19 UK -- The Betsy Trotswood
thu Oct 20 UK -- The South London Pacific
fri Oct 21 UK -- The Spread Eagle
sat Oct 22 Kontich -- Lintfabriek
Friday, September 16th @ Emo's - with the Fleshtones
Saturday, September 10th @ End of An Ear 6pm - FREE in-store with the Austin Theremonic Orchestra! Six theremins goin' at the same time. Yeah, I don't even have one theremin, but they don't have a washboard gettin' hit by an eggbeater, now do they?
Friday, August 26th @ Emo's - with Scott Biram and Chili Cold Blood
Sunday, August 21st @ Beerland - Hazil Adkins tribute with Scott Biram, Possessed by Paul James, and a secret meeting of the International Brotherhood of One Man Bands (sorry, the public is only invited to the show and not the secret meeting).
West Coast Weekend!
Right after I get back from the southern hemisphere, I'm headin' out to the west coast for a couple dates with my buddies the Lamps and my future Voodoo Rhythm label mates the Guilty Hearts! Lamps LP is out now on In the Red, Guilty Hearts LP should be out soon!
Friday, July 8th - THE SCENE (Los Angeles) Schooley, Lamps, Guilty Hearts
Saturday, July 9th - PARKSIDE (San Francisco) Schooley, Guilty Hearts, Killer's Kiss
Back in the USA!
Yeah, like the MC5. Thanks to Scott Biram, I got my first show back in the states.
Saturday, July 2nd - HOLE IN THE WALL (Austin) w/my fellow One Man Band Scotty Biram. Thanks, buddy.
Australia/New Zealand Tour '05
Schooley - south of the equator, baby! Check my myspace page for tour diaries, updated show info, pictures, and more stupidity...
Australia
Fri 20 May – THE ESPY (St. Kilda, Melbourne)
w/ The Jape Squad (album launch)
Sat 21 May – THE TOTE (Collingwood, Melbourne)
w/ The Onyas, Lords of Gravity
Cobra Bar: The Hekawis, Drug Squad 66
plus: Man's Ruin Burlesque Show!
Sun 22 May – OLD COLONIAL INN (Fitzroy, Melbourne)
w/ Mad Macka & The Pan-Handler
Sat 28 May – HOPETOUN (Surry Hills, Sydney)
w/ The Pyramidiacs, Reservations
Fri 3 June – JUBILEE HOTEL (Fortitude Valley, Brisbane)
w/ The Vegas Kings, Dangermen, Feelin' Lucky, The Fondells
Sat 4 June – RIC'S CAFE (Fortitude Valley, Brisbane)
w/ Gutterball Pete (4pm, free!)
Sat 4 June – TROUBADOR (Fortitude Valley, Brisbane)
1am late show, free!
Wed 8 June – THE EMPRESS (North Fitzroy, Melbourne)
w/ Darling Downs
(featuring Kim Salmon & Ron Peno)
Thu 9 June – DING DONG (Melbourne)
w/ Mach Pelican, The Bakelite Age
Fri 10 June – PONY (Melbourne)
2am late slot, free!
Sat 11 June – RUBY'S LOUNGE (Belgrave)
w/ Tim Rogers, Muddy Spurs
Sun 12 June – TOWN HALL
w/ Sailors, Muddy Spurs
New Zealand
Thursday June 16th - Hamilton, Ward Lane
w/Crazy 88s, Whipping Cats, MC6

Friday June 17th - Auckland, The Ambassador
w/Bloody Souls, Blunts & Crazy 88s

Saturday June 18th - Auckland, The Odeon Lounge
w/Boxcar Guitars & the Biff Bangle Experience
Friday April 22nd at Beerland - It's Schooley's record release party and video shoot. It's also the Crack Pipes record release. Big time shit. There will also be a Schooley/Crack Pipes record release in-store at Antone's records on Saturday afternoon the next day. The Crack Pipes will have a press conference and question and answer session. I will answer no questions of any kind, and then play a set that will render any and all questions moot.
Saturday April 9th at the Longbranch - dance party with the Bloody Tears. If you give me a title, I will write a new dance hit using that title for you to dance to. But you will have to come up with the dance moves to accompany this new dance, because I'll be busy singing, playing all the instruments, and spontaniously writing a new hit song. Otherwise, I would be on the dance floor showing you how the (insert new dance here) is done.
Friday April 1st at Emo's, opening for Neil Hamburger. With special guest Henna Chou on cello - making her One Man Band string section debut!
SXSW 2005
In-store at Waterloo Records, Thursday 3/17, 6pm. Too bad Ian Hunter cancelled, 'cuz I was having fun telling everybody that he was opening for me. Now, it's the Dears in the slot right before me.
Friday 3/18, D&L's Texas Music Cafe, 8pm. Right before Bill Kirchen, and then the country guitar supergroup the Twangbangers (featuring Bill Kirchen, Redd Vollkeart, and Joe Goldmark). And it'll be over in time to catch Blowfly at Emo's.
Saturday, 3/19 Longbranch Inn, 9pm - avoid the hell-hole that is 6th Street during SXSW, and head over to the eastside to see me, the White Ghost Shivers, and more. Chicken Ranch Records threw this shindig together.
Sunday, 3/20 Continental Club, 8:30 pm - Alejandro Escovedo's big end of South-By bash. Al asked me to play it, and I'm honored.
Saturday, March 5th @ Carousel Lounge w/The Stepbrothers, The Bloody Tears
Friday, Feb. 26th @ Room 710 w/ Dexter Romweber